Trudy leads the Commercial Cards business for Citibank in EMEA (Europe, Middle East and Africa). She took responsibility for the end-to-end commercial cards business 3 months into the pandemic when it had already been significantly impacted by the lack of Corporate travel. Pivoting the business to B2B and Leisure travel flows has been critical to its ongoing success.
The Commercial Cards business is not new to Trudy as she has held various roles over the years across several functions of the regional cards business: Operations and vendor management, Implementation and project management, Account Management and more recently, Sales.
Trudy started her career with Citibank in 1998 and held roles in Dublin and New York before settling in London.
Trudy holds a 1st class honours degree in Business Economics from Kingston University (UK)
She lives in the UK and splits her time between London and the New Forest, where she loves to spend time walking and cycling in the countryside.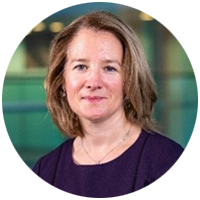 Trudy Curtis
Managing Director EMEA
Head of Commercial Cards
Citi