Sophie Wadsworth is a Senior Associate within the EMEA Trends & Advisory at J.P Morgan Payments. The team is responsible for analyzing trends across treasury, trade & payments and delivering actionable insights to our clients. 
Sophie joined J.P. Morgan in February 2022 after serving 8 years in the Armed Forces. She began her military career as a Bomb Disposal Officer within the Royal Engineers, where she was the first female to lead a Commando Bomb Disposal Troop. She was subsequently selected for a special project to develop the tactical Information Warfare capability for the Armed Forces. During this time she deployed as the Information Operations lead for the hurricane disaster relief in the British Overseas Territories in 2017. Following this, Sophie returned to the Royal Engineers where she deployed to Afghanistan to manage all UK owned infrastructure projects in 2019.
Sophie holds a Masters in Mathematics from The University of Exeter.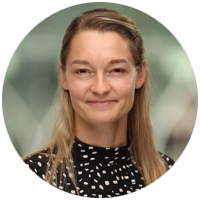 Sophie Wadsworth
Trends & Advisory EMEA
J.P. Morgan Payments