Over 15+ years of experience within IT & Fintech Payment Industry, specifically Card Acquiring, processing & Acceptance, from building payment solutions to managing the full life cycle of payment products and services, ensuring scheme & risk compliance management, Saritha plays multiple roles and works across different functions within Worldline organization. She is currently Head of Global Scheme Fee Analytics & Reporting within Scheme Management, Expert at Worldline Expert community and CSR Ambassador at Worldline.  
She is also sustainability enthusiast, speaker and one of the Founding Member at VATIs Common Ground that bring people, companies, and communities together for a mutual strive for creating a better world by Doing Good Business.  
She is also Certified Sustainability Impact Auditor, helping individuals & organizations improve in sustainability awareness, responsibility and collaboration.  In addition, she helps companies with ISO26000 Standard - Corporate social responsibility integration & CSR Audit services.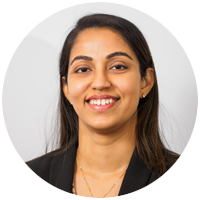 Saritha Dronamraj
Head of Global Scheme Fee Analytics & Reporting
Worldline