Rachel Nguli is a Digital Financial specialist with over 13 years' experience in Mobile money, Online payments and Payment Gateways in Africa. 
I have been fortunate to work with intra and entrepreneurs to found and grow their business using online and mobile money to create efficiencies that translate to maximum return on investment 
I believe that Africa's future is in the mobile and online payments space given the fact that the frontier market in emerging markets 
I was in the founding team of the first payment gateway in Africa Pesapal as well as one of the most successful online ticketing platforms in sub-Saharan Africa Ticketsasa. 
I have also been fortunate to lead and deliver key partnerships with leaders in the Tech world PayPal and Google to have M-PESA embedded in the payment's customer journey for the Kenyan Market. 
 I have also been at the forefront of key projects digitalizing of Public Sector in key areas of Pension (NSSF haba haba ), Agriculture(E- subsidy Voucher Program),Transport(Kenya Ferry Services) just to name a few.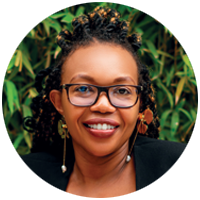 Rachel Nguli
Digital Financial specialist