Nilixa Devlukia is the founder and CEO of Payments Solved, a regulatory consultancy advising the regulatory framework for payment services, digital banking, digital currency, fintech and open banking both in the UK and globally. 
Nilixa is an experienced regulatory expert and lawyer with a Masters in European Competition Law and over 20 years experience gained from her time as Senior Legal Counsel at Barclays and policy lead at the UK regulator, the FCA.  Nilixa works with industry, regulators and legislators to drive changes in the banking and payments ecosystem for a payments and open banking landscape that is secure, transparent and inclusive. 
Nilixa is a well-known public speaker and was consultant Head of Regulatory at the UK Open Banking Implementation Entity dealing with all matters relevant to the Open Banking API Standards and Guidelines.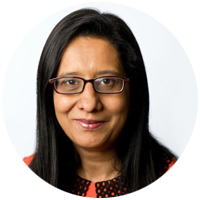 Nilixa Devlukia
Founder and CEO
Payments Solved