Nida Sattar is the International Product Payments Lead at ClearBank, based in London, United Kingdom. 
In her current role, she is responsible for the leading ClearBank's international expansion plans and product deliveries across payments and FX. Nida was previously a Vice President in Wholesale Payments at J.P. Morgan, where she led and managed the launch of real-time payments in the EMEA region. Her successes include launching J.P. Morgan's SEPA Instant offering and setting up the foundations for Direct UK Faster Payments connectivity. She is also a frequent speaker at various industry forums including EBADay, Women In Payments, FinTech Connect, etc. 
Prior to the move to Payments, Nida worked in J.P Morgan's Derivatives Clearing business for 3 years, managing the relationship for a portfolio of hedge fund clients, after successfully completing the graduate scheme. 
Nida has a Master of Arts in Land Economy from the University of Cambridge.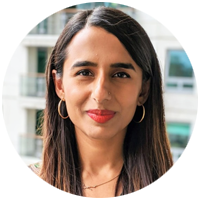 Nida Sattar
International Payments Product Lead
Clearbank