Mar Cachá is the Deputy Head of the Vicesecretariat of Banco de España in charge of the authorization processes, the fit and proper assessments and passporting.  
Mar Cachá is a graduate in Economics from the Universidad Autonoma de Madrid, majoring in Econometrics.  She has pursued her career at the Banco de España, which she joined in 1988 as a supervisor in the Directorate General Banking Supervision. Since then, she worked both in monitoring banks and in developing regulations and prudential policies, participating actively in international groups of the Basel Committee on Banking Supervision, and the European Banking Authority. She has also worked at the International Monetary Fund in the review of the first country assessments of the Basel Core Principles on Banking Supervision. 
In 2013 she headed up the recently created Fit and Proper Division, afterwards the Authorization division and in 2018 she was appointed Deputy Head of the Visecretariat. During this time, she has also supported both Banco de España in projects such as the PSD2 implementation and the sandbox project and the European Central Bank in developing best practices and policies in this area. She is a member of the SSM Authorisation Network.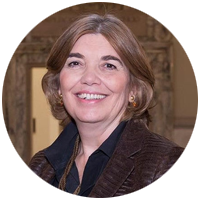 Mar Cachá
Executive Coordinator of the Divisions of Authorizations, Fit & Proper and Register & Passporting
Bank of Spain