Liz Oakes is Executive Vice President responsible for Mastercard Send in the Products & Engineering division at Mastercard.  In this role Liz drives growth of the Send business globally, broadening our multi-rail reach and innovating at pace with capabilities to meet customer needs in P2P, gig economy, rapid disbursements, rapid merchant settlements, funding to and from wallet transactions and remittances.  
Liz was previously responsible for Mastercard's long-term strategy for Products & Innovation to deliver the best, secure end-user and customer experience around the world through co-innovation with clients, partnerships and M&A. Liz also oversaw Mastercard's efforts to deliver integrated services and curated product solutions, enterprise risk management, product management excellence, integrated data analytics and cross-border program execution.  Liz joined as EVP, market development for the New Payment Platforms business advancing the engagement on real-time payments with banks, central banks and operators globally and Mastercard's multi-rail strategy.   
Liz has more than 25 years' experience in designing central clearing and settlement systems and bank payments systems, globally.  This includes the governance and functional design of SEPA, Faster Payments and Bacs systems in the UK, and real-time payments systems strategy and design for national payments infrastructure operators in Australia, India, Pakistan, P27, Singapore, Sweden, and the USA. Liz has also supported the design and roll out of new payment systems within bank environments and is focused on the customer experience impact of new innovative solutions. 
Liz joined Mastercard in 2018 from McKinsey & Company, where she was an expert associate partner in its global payments practice. During her tenure, she served financial institutions, payments businesses and investors on strategy, design and implementation of payment systems, regulation including PSD2 and Open Banking, and supported mergers and acquisitions activity. 
In 2016, Liz joined McKinsey from KPMG, where she provided strategic, operational and functional payments advisory services to clients.  She was heavily involved in the development of enhanced data and capabilities for real time payments and the implementation of the ISO 20022 XML messaging standard.  Earlier in her career, Liz worked at Vocalink, now part of Mastercard, most recently driving product management, strategy and customer engagement. 
Liz holds a Bachelor of Arts in Business Studies & German from the University of Hertfordshire. She lives in London with her husband and two sons.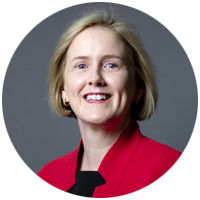 Liz Oakes
Executive Vice President
Mastercard