Hannah currently leads J.P. Morgan's client-facing narrative for Merchant Services in Europe. Equal parts strategist and creative, much of her time is spent thinking about the future of Payments, from the perspective of consumers, merchants, and processors, and conveying that in a digestible format for all audiences, regardless of their Payments acumen.  
Passionate about Gender equity, Hannah Co-Chaired the Gender Network at Barclays, where she founded the Barclays Career Kickstarter, an initiative designed to dispel the misconception of an 'ideal candidate' in early careers. The scheme provides resources and advice to students, largely targeting those not yet considering a career in Financial Services, aiming to increase black, female and non-STEM graduate representation.  
Dubbed One to Watch by Brummell Magazine, Hannah is part of a new generation of Payments professionals driving the next phase of change in our industry.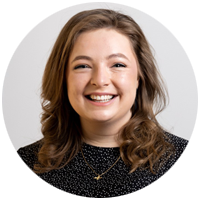 Hannah Broom
Senior Marketing Strategy Associate
JP Morgan