As Global Head of Product and Marketing for the American Express Network, Ms. Yenidogan-Schmidt focuses on growing our issuing and acquiring bank partnerships in 100+ markets through product and marketing solutions. Her team works with partners on a range of product, brand, and marketing initiatives from co-creating value propositions and 360 acquisition campaigns to deploying merchant marketing campaigns such as Amex Offers and Shop Small. Additionally, she chairs Executive WIN EMEA Chapter.  
Prior to taking on this role in June 2018, Ms. Yenidogan-Schmidt was Vice President, International Growth Optimization and Member Engagement, within International Card Services (ICS), American Express's international consumer division. She started her career with American Express in New York City and during her 17 years with the Company, she has held positions across multiple business units and staff functions, including Strategic Planning Group, Corporate Development and M&A, and Global Merchant Services.  Prior to moving to London in 2014, she had most recently served as Chief of Staff to the President of American Express, Ed Gilligan, supporting him across all aspects of his business management. Before joining American Express, she worked for Exxon Mobil, in Turkey, as a Sales and Account Development Leader.  
She holds a BS in Industrial Engineering from Istanbul Technical University and an MBA from Darden Business School of The University of Virginia.   She resides in Fulham, London with her husband, 14-year-old son and 2 cats.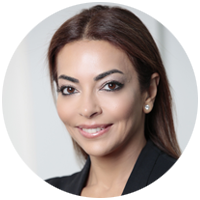 Duygu Yenidogan-Schmidt
VP, Head of GNS Product & Marketing
AMEX