As Global Payments Strategy Director, Anita is responsible for defining and implementing Spotify's strategic plan and roadmap for payments, encompassing 184 markets and multiple services for consumers, creators and advertisers. 
Previously, she held various leadership roles within Barclays' Payments business where she helped shape its international e-commerce and omnichannel payment strategies as well as leading its SME product organization. She was appointed as the first ex-officio member of Barclays Payment Solutions Executive Committee and also led the Women's Initiative Network for Barclays' payment technology business. 
Early on in her career, Anita was hired as one of PayPal's first employees in the UK and played a key role in launching its UK merchant services business and establishing PayPal as a brand in its own right outside of its parent company, eBay. 
In 2017, Anita was awarded 9th place in the Financial Times and EMPower's Ethnic Minority Future leaders list. She is a graduate of the London School of Economics and currently lives in South West London with her husband and two boys.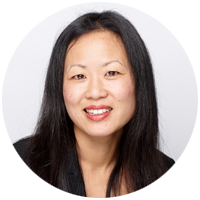 Anita Liu Harvey
Director
Global Payments Strategy & Planning
 Spotify